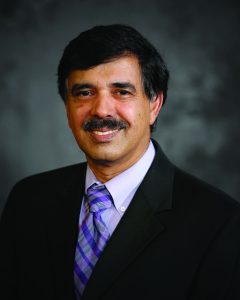 People with serious cardiac diseases are faring worse than patients without heart disease when they contract COVID-19. SBL Cardiologist B. Lakshmi, MD, explains that COVID-19 causes inflammation throughout the vasculature system, specifically in the blood vessels. A mild case of COVID-19 will only involve the lungs. Patients commonly have respiratory symptoms, loss of smell, or diarrhea. They get sick for a few days and then recover. However, the second week is when severe complications arise in people who are chronically ill.
"The first week is when the body is trying to fight the infection. If the immune system can fight it out, they get better. If the immune system is hyper-stimulated, then there can be destruction to the tissues and blood vessels such as arteries, veins, and capillaries. The body takes about a week to make that decision," Dr. Lakshmi explained.
The treatment of people with COVID-19 has evolved throughout the pandemic. At first, people were put on ventilators, but other treatments proved to be more effective for cardiac-related COVID-19 problems.
"Many people did worse after being put on a ventilator. The issue was systematic inflammation and clotting, so it did not help," Dr. Lakshmi said. People with COVID-19 had extensive inflammation of the heart and that inflammation needed to be decreased, so cardiologists around the world began using anticoagulants (blood thinners), anti-inflammatory drugs, and steroids. These drugs reduced vascular system inflammation, clotting, and the progression of life-threatening symptoms. People began feeling much better with this mixture of medications. "This combination seems to work, in addition to the usual medications. Early, aggressive therapy is key," Dr. Lakshmi said.
Dr. Lakshmi explained that he had a 65-year-old patient with congestive heart failure who he had seen for nearly 15 years. The patient developed COVID-19 and was fine until the second week of illness, when his inflammatory heart problems worsened, and he died quickly.
Lingering symptoms that indicate persistent issues caused by COVID-19 include shortness of breath, fatigue, and slight discomfort in the chest. For people who currently have or did have COVID-19, Dr. Lakshmi orders an echocardiogram, blood test, and in many cases, an MRI, to rule out serious health issues to find the right treatment plan.
Dr. Lakshmi said cardiologists have learned two important things during this pandemic. First, COVID-19 can cause extensive myocarditis (inflammation) of the heart, even if a person does not have existing coronary artery disease or other chronic heart conditions. Second, those with preexisting diseases like congestive heart failure suffer worse prognoses. People who have obesity, chronic obstructive pulmonary disease (COPD), and asthma have greater risks when they contract COVID-19 – no matter their age. "This disease is to be taken very seriously," Dr. Lakshmi said. "Don't be afraid to seek medical care, especially if you have lingering symptoms weeks after catching COVID-19."