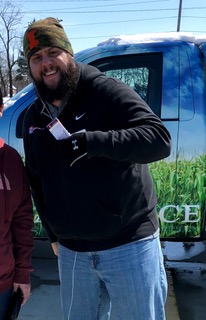 For as long as I can remember I was the fat kid. Even when I wasn't, inside I was. I never understood that when I was a 230 pound center for the Champaign Central Maroons football team who could bench my body weight and squat over 500 pounds. I actually looked good and felt good, but as time went on, I was both acutely aware and painfully blind to my relationship with food.
Ok, lets back up.
 Hi. I'm Orion. And I work for Rewind 92.5 in Champaign. I also work on the side for the University of Illinois Athletic Department as a public address announcer for Women's Swimming and Diving, Wrestling, Men's and Women's Gymnastics, and Baseball. I'm a lifelong central Illinoisan. I was born and raised in Champaign-Urbana. College led me to Coles County. I can't tell you why I took that tour of EIU on Columbus day in 2004, but I'm glad I did. I spent 5 great years on campus at EIU, getting my hands in pretty much everything. I started working for WEIU as soon as I realized where it was. Doing play-by-play and color analysis for EIU Baseball during their great years in the late 2000's, and calling some incredible years of Charleston High School Football were highlights.
As college often does, it lead to me making bad decisions with food. Late night pizza at Thomas Hall is great! Especially 3 hours after dinner. McHugh's is the single greatest fast food restaurant in the world and you're not going to convince me otherwise. I love food, and I never thought that I'd have any issues eating whatever I wanted. I was gonna be fine. Bad food doesn't affect me! (SPOILER: It does) I'm also a good cook. My dad came up as a professional cook, and I learned from an early age how to cook and prepare anything. I love cooking, I just don't know how to do it small. I make enough food for a family of four. The problem is our household currently just has my 4-year-old Australian Shepherd, Dug, my girlfriend (we'll call her Dug's Mom) and me.
As long as we've lived together, we've been on a pseudo-diet. Buying natural foods, nothing processed, turkey instead of red meat and all that, but we didn't fully commit. We'd eat out on the weekends. I'd grab fast food on my way back from evening sporting events, and when one of my oldest friends in the world opened up a great sports bar in our new hometown of Monticello, oh boy did we pack on the pounds.
We both have a bad relationship with food, and right before we started with HMR, we were helpless. I had no idea of how to stem the tide of weight gain, so the opportunity to start working with the team at SBLHC and HMR is literally a life saver. I know I'm not the one guy who is impervious to diabetes, high blood pressure, and heart disease. It was going to catch up to me eventually, so our whole house is in this together. We got rid of everything in the house that isn't on the plan (a sizable donation to the food pantry made us feel marginally better), and we're gonna stick to this. Dug is also in on it, though the lack of pizza is going to make him sad. Last visit to the vet he was 10 pounds overweight, so his lack of people food, and the miles of walks we're going on are gonna be good for him too.
I'm putting it here, on the internet where things are written in ink, that I want to lose 100 pounds. I started this diet at 319 lbs. I want to be under 220. Back to my playing weight. 
There. It's on the internet. No turning back. Now, what's next?
If you are interested in joining Orion on his weight loss journey with HMR, call the SBL Weight Management Program at 217-238-4774 or email weightmanagement@sblhs.org.