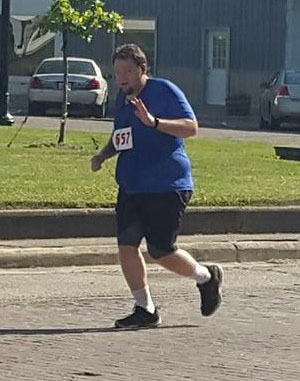 Hello readers!
Well, racing season is upon us once again. And thanks to the HMR program, this is my second year being able to take part in a variety of 5Ks and 10Ks.
Earlier this year, I did my first 15K, my most intense run to date. That was back in February. So far this summer I have completed a 10K, at the Sarah Bush Lincoln Races for All Paces, and this last weekend, a 5K in my hometown of Oakland. In both races, I beat my best times! I topped my 5K best time by a full minute, and I topped my 10K best time by a whopping three minutes!
Now, if you had asked me this time two years ago if I thought I'd ever be doing 5Ks, 10Ks, or 15Ks, I'd have fallen over laughing. I wouldn't have imagined doing 1/10 of 1K without feeling the strain. So the fact that I am doing all these now, and progressively getting better and better, is an amazing feeling. Now if only the darn heat-waves would subside a bit, it would make for some much nicer running conditions. But I suppose it's all part of the conditioning, getting me stronger and more resilient.
But the takeaway should be that you can't ever count yourself out. Don't ever let yourself get away with saying that you can't do it when it comes to something like a race. Maybe you feel you can't do it now, but you can get there. You can start small, and get a little better each time. As long as you stick with it, you can progress all the way to the point where you are doing things you never thought yourself capable of before. It's a journey, a process, a long road for sure. But it's one that you absolutely can achieve if you want it bad enough.
When it comes to weight loss, diet, exercise and getting advice from healthcare professionals is all part of it. And all of that is focused on with HMR. So I definitely owe a lot of thanks to the program for helping me get to where I am today.
So keep on pushing a little farther, day after day, and be amazed at how far you're able to go.
Tim Stolz