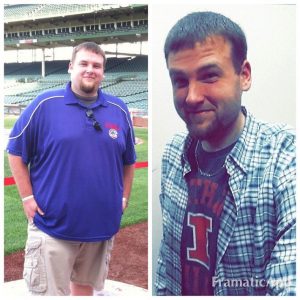 Hello, friends! It's me, Kurtis. Ya know, the guy you hear every weekday on WIXY 100.3? Welcome back to another blog-o-spectacular on my weight loss journey with Sarah Bush Lincoln and the HMR Program. I've mentioned this before, but you never know when you might have a curveball thrown your way on a weight loss journey.
As you might remember from my last blog, I expected to put some weight back on after the twins were born. I didn't put A LOT of weight back on, but it was enough to make me hit the reset button. My goal has been to lose about 25-30 lbs. But it's been much more of a struggle than I expected. I've had a couple of plateaus and started to get down on myself a little bit.
As silly as this sounds, I started to question if I could lose the weight. Then I'd think, "Well, yeah, you big dummy! You lost 140 lbs. You can lose the little bit that you put back on."
Another thing to keep in mind is that I've added muscle mass that wasn't there before and I'm also accomplishing things I never would have expected prior to the HMR Program with Sarah Bush Lincoln. For example, I'm sustaining longer and longer runs in the morning and have much more energy throughout the day. There's also much more definition in my upper body too. I can even flex my pecs! 😉
I've been going to the weekly classes at the Tuscola clinic instead of Mattoon. It's been much more convenient for me since I've been in Champaign. Kristina, our instructor, keeps reminding me that while weight loss is the goal…there is more to this whole journey than just losing the weight. It's reminding myself how much I've kept off, the lifestyle changes I've made, and that I'm in this for the long haul.
Realistic goals are my main focus at the moment. Instead of thinking, "I need to lose 30 lbs ASAP!"…I'm thinking, "I need to lose 10 lbs by the end of the month." That is an achievable goal and one that I can repeat for the rest of the year.
Ain't nothing left to do, but to do it.
Thanks for reading friends!