Officially past the 60 pound threshold. Woo! That feels good. Though I'm finally to that point where the losses have started to be less and less. Also where my discipline is less and less. But still, a loss is a loss. I should get a tattoo of that.
But lets talk about clothes for a second. How I now have more of them than ever. And I haven't bought a thing.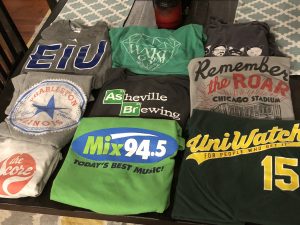 Every t-shirt in that picture is one I couldn't wear comfortably or at all in April. My wardrobe has gained 9 shirts! As a guy who takes his t-shirt game very seriously, this is great. This picture doesn't include the other shirts at the back of the closet that I had left for dead. I should pull them out an see if they still love me.
This is what they call a "non-scale victory." Regardless of the number on the scale last week, I won. Because I'm feeling better and looking better. And more comfortable.
One more? Ok.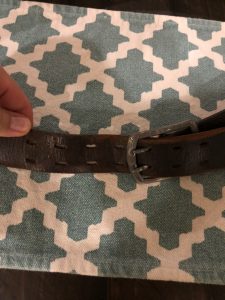 I've had this belt for probably 7-8 years. It doest that great thing that everyday belts do, where it actually forms around your gut. Very uncomfortable towards the beginning of the diet, but no longer. Above are the holes where I consistently wore it.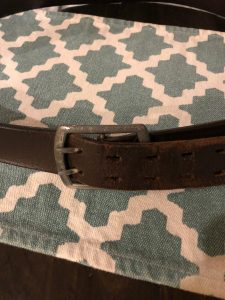 Here's where it goes now.
All the way at the end. This is bittersweet. I'm going to have to buy a new belt. My pants are already too big, and soon the belt will be too. We've been through so much together, but I'm going to have to change eventually. I'm putting off buying clothes until I'm closer to the end. I'll take these non-scale victories. They feel better than the scale ones.
If you want to experience some NSV's of your own, join me on the HMR Program today. Call the Sarah Bush Lincoln Weight Management Program at 217-238-4774 or email weightmanagement@sblhs.org to schedule an appointment to attend a FREE informational session and learn more about the program and how to get started. You can also check out https://www.sarahbush.org/weightmanagement/.