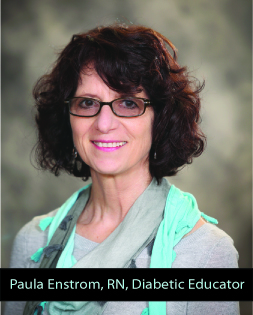 Hi, I'm Paula Enstrom, RN, and a diabetic educator at Sarah Bush Lincoln. Thank you for your interest in diabetes. I hope you find Sweet Talk engaging. I am always happy to answer your questions.
Do you ever wonder why you test your blood sugar for your healthcare provider all the time when it feels like he/she only glances at the numbers? Does it feel like a painful waste of time and money?
Blood sugar meters are a wonderful tool that can help you learn how to manage your blood sugar better. The key is not just testing, but thinking about the reason for the test results.
First, it's important to know that there are standard recommendations for what blood sugar numbers should be depending on the time of day and when you last ate. These guidelines differ from one person to the next depending on several factors. Therefore it is best to talk with your healthcare provider and set personal goals for your blood sugar levels. General guidelines are as follows:
| | | |
| --- | --- | --- |
| | Before Breakfast | 2 Hours After a Meal |
| ADA Guidelines | 80-130 | < 180 |
| ACE | <110 | <140 |
Second, when you test your blood sugar, look at the result and ask yourself a few questions.
What did I have to eat that impacted my blood sugar?
– Too many carbohydrates can lead to high readings
– Too few carbohydrates can lead to low readings
Did I remember to take my medications as prescribed?
– Missing your medicines can make it high
– Double-dosing can make it low
Was I more or less active than usual?
– More activity will usually lower blood sugars
– Less activity will usually lead to higher blood sugar levels
Third, after asking yourself the above questions, jot down a few notes about why you think you got that blood sugar reading.
Just these few steps will help you to learn about the impact of your choices on your blood sugar. Once you start to understand this, you will start to feel like you are in the driver's seat and in control of your blood sugar. What a great feeling! We all like to feel that we have control of our lives, don't 'we?
Feel free to contact me with your questions. Until next time, Paula