Written By: Ally Kuehn, Eastern Illinois University graduate student in Nutrition Education and Dietetics and SBL Food and Nutrition Services, dietetic intern
As the fall months begin and the temperature starts to dwindle, this season seems to have gotten cliché where most food industries incorporate artificial pumpkin spice flavor into foods. As consumers, we forget about all the healthy fruits and vegetables out there once the summer salads stop.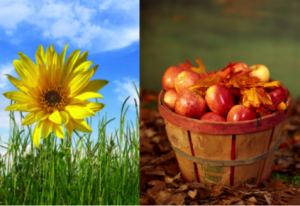 This fall season I encourage you to buy local or buy in season. When you buy fruits and vegetables in the season you are getting these foods in their prime.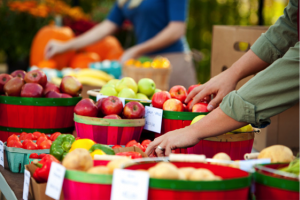 Purchasing for the season means that you are getting the best flavor, nutrition, price, variety, and so much more.  Seasonal produce is picked in their peak nutritional status. The supply is greater for these seasonal fruits and vegetables which means that the prices go down and I encourage you to cash in on these fall premiums. Embracing fruits and vegetables like pumpkins, pears, turnips parsnips, yams, winter squash, sweet potatoes, pomegranates, apples, figs, and cranberries are some great fall additions to any balanced plate (Eat for the season, 2014).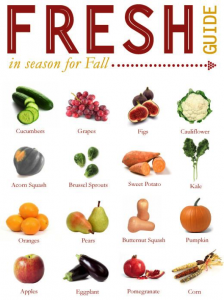 When you think of this season think of the colors that accompany it: deep greens, rich yellow and bright oranges. When you eat these color you are including better nutrition and added health benefits! Adding more yellow, red and orange fall fruits and vegetables to your meals will add more folate, Vitamin A and Vitamin C to your diet (Larson, 2016). Pumpkin can be added to many baked goods, soups or risotto. Squash can be added to fall salads, soups and rice pilaf dishes. Dark leafy greens like kale can be added to fall dishes with the added benefit of Vitamin A, C, and K to your diet. Kale is best when included into soups, salads, or sautéed (Larson, 2016).
Fall into Produce this Season!
This fall season you can enjoy a bite out of any fruit or vegetable all year-round. Don't forget about frozen, canned or dried fruits and vegetables these are great sources of nutrients.
References
Eat the Seasons. (2014). Retrieved September 25, 2017, from http://www.eattheseasons.com/.
Larson, H. (2016). 9 Fall produce picks to add to your plate. Retrieved September 25, 2017, from http://www.eatright.org/resource/food/nutrition/healthy-eating/fall-produce-picks.