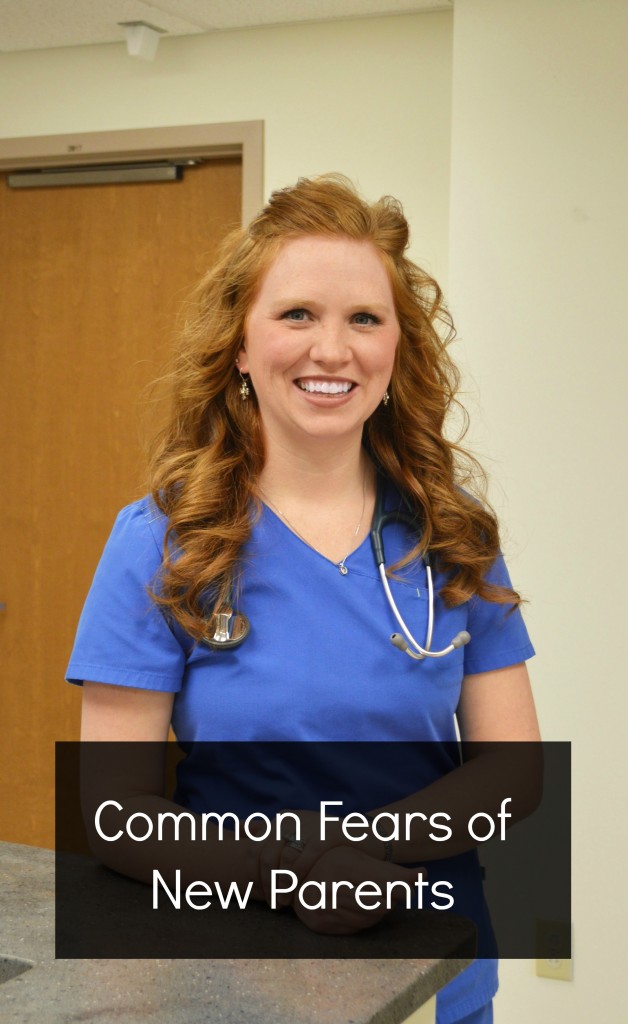 There's a moment during pregnancy when being a parent goes from abstract idea to stone-cold fact. And it's scary. Like clutch-my-heart-I'm-feeling-woozy scary.
Because all of a sudden, it hits you that this little nectarine-turned-artichoke-turned-pineapple growing in your belly is actually a living, breathing person who will require things from you. But tiny humans don't come with instruction manuals, so now what?!
The good news: You're not the only parent-to-be grappling with new baby worries. From outlandish thoughts to legit concerns, you aren't alone!
Fear #1: A baby will rock my marriage. A baby can seem like a permanent third wheel in a relationship, and in some ways, that's true. This may explain why parents-to-be fear the havoc a baby can wreak on an otherwise solid-as-a-rock marriage. I've seen happy couples turn on each other after a few too many nights spent caring for a newborn. I've heard from new moms who complained that their boobs morphed from erogenous zones to milk bags. Of course, penciling in some quality time with your partner helps. Try to make sure once a week (or even every other week) you can have a date night and let each partner have some "me" time. Also, appreciate one another and acknowledge each other's hard work and efforts with having a baby.
Fear #2: I won't bond with my baby. For some parents, maternal or paternal love kicks in the moment they see their newborn or after some skin-to-skin sessions. But for others, the connection isn't as immediate. After a complicated pregnancy, stress with a job, a struggling marriage or relationship, bonding with a high demand newborn can be difficult. And throw in the baby blues or even post partum depression (PPD), things can be complicated those first few months!
Whether you're experiencing PPD or the baby blues, it's important to know that you're not alone. Around 70 to 80 percent of mothers experience the blues because of a combination of changing hormone levels, lack of sleep, new responsibilities, and, basically, the fact that your whole life just changed. Try squeezing in naps when you can, relying on friends and family for support, and getting out of the house as much as possible. A call to your health care provider may also be in order. It is possible that it may not just be blues but turn into depression, where it is lasting more than a week and really affecting your life. There are treatments, and even with the blues, you should always talk to your health care provider.
Fear #3: I won't be able to breastfeed. Recently, a friend of mine said, "I couldn't believe you're given a baby and not given instructions! I worried that I wouldn't get enough milk to feed her. And when she was weaned, I worried that I was doing something horrible, that formula would ruin her. Even now, I worry that she's not getting enough to eat."
Sound familiar? Take a breath – breastfeeding is tough. Even if you master the logistics right off the bat, sometimes it takes up to a week for the milk to come in. And establishing supply can take up to a month. In other words, give yourself a break, and don't be shy about asking for help. It is very important to have a support system, including a lactation consultant, pediatrician, family, friends and breastfeeding support groups in the neighborhood.
If you decide to use formula, go easy on the guilt trip. We have formula that is created to nourish your baby to give them all the nutrients they need. It is safe to give to your child and your child will thrive. What's most important is that you're bonding with your baby.
Fear #4: I'll handle my baby wrong. Before she got pregnant, another friend of mine was scolded for holding a friend's newborn wrong. So when her own son arrived, she was understandably freaked out that she was handling him unsafely. "I was worried I'd snap his neck, that I wouldn't know how to support him," she says. "I was so worried I wouldn't know how to hold my baby."
Considering most infants don't get the hang of head control until 4 months of age, it's no wonder so many new parents are nervous about holding their oh-so-tiny newborns. Usually, it takes moms and dads a couple of holding sessions before it feels normal. Just be sure to help support the head and neck whenever you're holding your babe upright, or do a cradle hold. (And if you're really unsure, ask a nurse to give you a quick tutorial before you leave the hospital!)
Fear #5: I'll accidentally hurt my baby. The possibilities for grave errors – accidentally giving too much medicine; dropping your newborn – seem endless when you're a newbie parent or a parent-to-be. Just remember you should always call your pediatrician if you're uncertain or worried about something, they've likely heard it all!
– Leslie